Exotic Dubai Tours & Safaris
Tours, Hotel Reservations, Conferences & Incentives
We are fully open now for you
Abu Dhabi
Abu Dhabi is capital city of UAE and is also the headquarters of numerous oil companies and embassies. Abu Dhabi's has only 420,000 UAE citizens, each of whom has an average net worth of $17 million. The city features large gardens and parks, green boulevards lining all the streets and roads, sophisticated high-rise buildings, international luxury hotel chains and opulent shopping malls.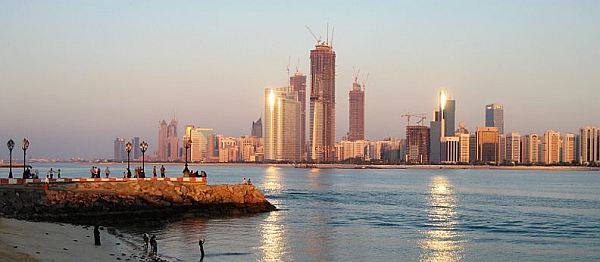 Long viewed as a staid bureaucratic outpost entirely lacking in neighboring Dubai's pizazz, things started to change radically in 2004 after long-ruler Sheikh Zayed passed away and his son Sheikh Khalifa took over. In a bid to attract tourism and investment, land sales to foreigners were allowed and restrictions on alcohol were loosened.
Several massive projects are also under way. Yas Island hosts Abu Dhabi's Formula 1 track and the new Ferrari theme park, while the upcoming $28 billion cultural zone of Saadiyat Island and its centerpieces the Guggenheim and Louvre Museums are scheduled to open in 2013. It remains to be seen how well the strategy will work but the city is certainly experiencing a construction boom.
Places to See
Abu Dhabi offers many attractions and places to see
Sheikh Zayed Mosque, the largest mosque in the UAE.
Sheikh Zayed Mosque. The 6th largest mosque in the world. Construction is mostly completed. Entry into the mosque for non-Muslims is restricted to Sa-Th mornings. You can easily get there by public bus. Ask the bus driver to let you know once you get there. The public bus stop is a 100 metres before the mosque and after that is no stop for the next 5km.
Corniche. Abu Dhabi's spectacular waterfront stretches for miles from the Breakwater near Marina Shoping Mall almost up to the Mina Zayed port. It has a walkway for the entire length, and certain stretches have sandy beaches. There are also many activities like go-cart riding, playgrounds and even stages for shows. All this against a backdrop of the impressive towers of downtown Abu Dhabi. Come in the evening and you feel as if the whole of Abu Dhabi have come here for their evening walk.
Flagpole. At 123m, this is among the world's tallest flagpoles, and you won't miss the massive UAE flag hanging off it. On Marina Island across from Marina Mall.
Abu Dhabi has several large green spaces, many of which include play areas and equipment for children, and the city is studded with lovely fountains, swathes of neon light, and the occasional sculpture.
Khalifa Park, (off Al Salam St (8th) near the Grand Mosque). The best park by far, built at a cost of $50 million. Has its own aquarium, museum, train, play parks and formal gardens. edit
Cultural Events The Abu Dhabi Cultural Centre has become a landmark in the Emirates and holds cultural events and workshops throughout the year. It has a well-stocked library, children's programs, art exhibitions, benefits, and other culture-related activities that are the hallmark of any city. It's well worth a look.
There are a vast number of projects coming up in Abu Dhabi.
Saadiyat Island is being developed into a cultural haven (see Understand).
Yas Island: The alpha-male motorsports den of Yas Island will feature a world-class motor sports racetrack which held the final Formula 1 race of the 2009 season and is on the race calendar for 2010 - the Etihad Airways Abu Dhabi Grand Prix [6], a Ferrari theme park, water park, and — of course — enormous shopping malls.
Lulu Islands are a group of artificial islands, already built just offshore at great expense, but currently sitting there doing absolutely nothing after a tourism venture failed to even start construction.
---
| Home | Contact Details | Hotel Reservations | Guaranteed Departure Tours | Dubai Desert Safari | Dhow Dinner Cruise in Dubai