Exotic Dubai Tours & Safaris
Tours, Hotel Reservations, Conferences & Incentives
We are fully open now for you
Atlantis Dubai Tour

Atlantis Dubai is the first hotel that is built on the 8th wonder of the world The Palm Jumairah, The man made Islands in the Arabian Gulf. It is the first hotel erected at this beautiful and most talked about structure of Dubai. Atlantis has captured the world's imagination with its magnificent scale and ingenuity. From the moment of arrival, you're immersed in a dazzling world of imagination, pleasure and luxury. The resort offers relaxation and thrills for couples and families alike, including a landmark hotel, unique marine habitats, an exhilarating water park, pristine white beaches, world-class cuisine, indulgent spa and cosmopolitan boutiques. To stay or visit is to live out your dreams amidst warm Arabian seas.
Following are the major Attractions of the Atlantis. Exotic Dubai Tours and Safaris offer 2 different tours of Atlantis.
1. Half Day Atlantis Dubai Tours Pickup from your hotel at 11AM and drop back at 2PM US$ 130.00 per person adult and US$ 85 per child under 12 contact us to book now
2. Full Day Atlantis Dubai Aqua Venture tour. Pickup from your hotel at 11AM and drop back at 7PM US$ 145.00 per person adult and US$ 95 per child under 12 contact us to book now
For Arlantis Dolphin Cay tours please click here
Lost Chambers
A maze of underground passageways and tunnels hosting 21 unique and unusual marine exhibits and offering uninterrupted underwater vistas into the boulevards and streets of the ruins of Atlantis The Ambassador Lagoon, containing 11.5 million litres of water, will mesmerise guests with a single ten metre long viewing panel Navigators in each room will guide guests through the individual exhibits, mystical relics and ruins from the ancient City of Atlantis. Join us and marvel at the mythical lost city of Atlantis.
Marine exhibits
Piranha, Moray Eels, Giant Grouper, Fluorescent Anemones

Fluorescent Coral, Lookdowns, Jewel

Giant Catfish, Moon Jellies, Live Coral, Battery

Lobster Crawl, Sea Nettles, Arapaima, Clownfish

Giant Cuttlefish, Lion Fish, Anchovies, Fresh Water Stingray

Two Touch Tanks

Aquaventure
17 hectares of water-based attractions

30m high Ziggurat with 7 different slides

?Leap of Faith? ? near vertical 27.5m drop into shark tank

Over 2km of non-stop river action with cascades, tidal waves and rapids

700m Aquaventure private beach

Splashers, an aquatic playground for young children
Aquaventure guests will have access to 700 metres of private beach featuring 2500 chaise lounges and a wide range of water sports including windsurfing, sea kayaking, small sailing vessels, floating climbing walls and other air-blown floating devices

The Rapids will circumnavigate and lead into the Ziggurat, the epicentre of all the action, reaching 30m into the sky. The Ziggurat will feature seven heart pumping water slides, two of which catapult riders through a transparent tunnel into the shark lagoon

A cashless payment system will be offered to guests throughout Aquaventure. Guests simply load funds on to their wristbands, via cash or credit, which is then accepted at all outlets throughout the park

150 trained lifeguards will be positioned throughout Aquaventure at any given time
Rides
The Leap of Faith body slide will offer the daring and adventurous a 27.5m (90ft) almost sheer vertical drop from the top of the Ziggurat, propelling the body surfing riders at a rapid speed through a clear acrylic tunnel submerged in the shark-filled lagoon. The slide will be over 61m long
Shark Attack, 13m up the Ziggurat, will spin riders into the tower?s mysterious dark core before emerging through the shark-filled lagoon at a leisurely ?shark-viewing? pace
Stinger, The Falls and Shamal are all inner tube slides using ?master-blaster? technology, which effectively creates a water roller coaster, propelling riders on jets of water, up and downhill throughout Aquaventure
The Surge will descend from the top tier of the Ziggurat and wind down through a camel back drop into a cavern with a flash flood. Further slides, for our younger or more anxious riders, offers a more placid journey into pools connected by various other water adventures, where guests can glide through the lush landscape or ride the Rapids tidal river
Dolphin Bay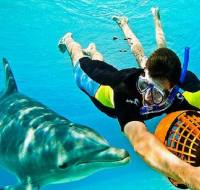 Education centre and interaction habitat
Home to a family of dolphins living in a 44,515sqm coastal habitat
The marine habitat includes 3 interactive lagoons for shallow water and deep water interactions
To continue Kerzner's strong commitment to dolphin and marine life conservation, Dolphin Bay will become Dubai?s first and only marine animal rescue and rehabilitation facility

The centre will provide a broad range of educational opportunities including graduate and undergraduate programming, currently being developed in conjunction with universities and local educational institutions

Dolphin interactions are an intimate, educational and fun experience designed to facilitate a closer connection and appreciation for one of the world?s most charismatic creatures
Dolphin Bay Interaction Experiences
Shallow water interaction
During the 90 minute experience, guests will have adequate time to check-in, change into their Atlantis wet suits and enjoy a complimentary soft drink
Prior to their experience, guests are guided to the orientation room where our marine mammal specialists will provide an informative presentation and discussion covering dolphin behaviour, physiology, the importance of marine conservation and safety necessities
The experience with one of our dolphins will take place in one of the three lagoons.
Two marine mammal specialists will escort a group of 10 guests for their encounter
Following the interaction, guests have the opportunity to shower and change in the locker room area.
The Gift Shop allows guests to view and purchase their personal dolphin interaction photos, as well as other merchandise
Dolphin Bay Education Centre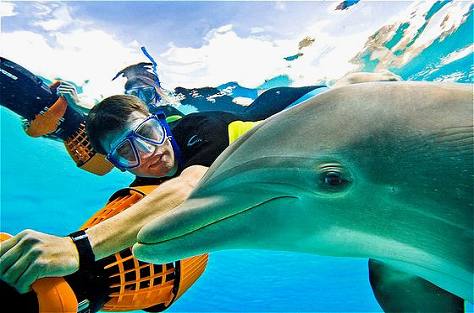 The Education Centre features a video presentation wall, and audio corner to hear real dolphin and whale sounds
An educational corner with a marine mammal education specialist on hand to answer questions
Seven interactive kiosks where guests can learn more about dolphins and marine life conservation, play games and send e-postcards to family and friends.
The Education Centre is open to all guests and visitors to Atlantis. Part of the proceeds from the dolphin interactions and gift shop purchases will benefit the Kerzner Marine Foundation ? a private, non-profit foundation fostering the preservation and enhancement of global marine ecosystems through scientific research, education and community outreach
Explore a world of breathtaking water thrills at Aquaventure (Aqua Adventure). Slide down the immense Ziggurat and through a shark-infested lagoon, take a river ride of over two kilometres, ride the water rapids and white water chargers. For a gentler experience, younger visitors can plunge into Splashers, a water playground for kids. It all adds up to a unique water adventure, with something new discovered at every turn.
You can either stay at the Atlantis Hotel Dubai or spend few hours exploring its
Tour Details : We will pick you up from hotel drive you to the Atlantis Palm Dubai where you will be greeted by the hotel staff and will be taken to the Exciting Aqua Venture. Spend about 3 hours and your driver will bring you back to the hotel.
Cost for Individuals : US$ 130.00 Per person US$85.00 per Child
Groups above 10 US$ 90.00 Per person and US$ 75.00 per Child.
Cost includes pick up drop and the entrance to Atlantis Aqua Venture Contact us booking
Pictures of Atlantis

Entrance Aquaventure

Contact us for more information & booking now
---
| Home | Contact Details | Dubai Hotel Reservations | Guaranteed Departure Tours | Dubai Desert Safari | Dhow Dinner Cruise in Dubai
---
Advertisement
Advertise on this site click for advertising rates

Daily Desert Safaris
Enjoy the spirit of the Arabian desert Dune bashing in the sand and entertained by Belly dance over Dinner US.00 Per person
More details and booking