Exotic Dubai Tours & Safaris
Tours, Hotel Reservations, Conferences & Incentives
We are fully open now for you
Dubai Overnight Desert Safaris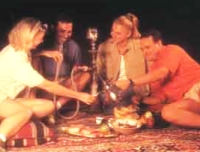 Spend a night in the Arabian desert under stars enjoy the nature at its full bloom. Whether it is full moon or half moon you will have a great time on our Overnight Safari in Dubai. Overnight safari brings you very close to the nature just out side the modern Dubai.
We pick you up from you hotel or residence at 3:15PM than we drive you to the desert where after a fresh up the drivers of the safari will reduce air in their Jeep wheels and take you to the depths of sand where you will experience dune bashing. Your experienced driver will drive you up the dunes and bring it down in a very artistic way give you the feel of the desert sand.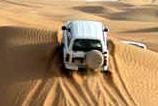 You will drive up and down the sandy hills as if skating in the sand than we will drive you a small desert camel farm where camels are raised in their natural environment.
We will also stop for a picture of sunset in the desert and than drive you to our camp where you will enjoy an BBQ dinner followed by a entertaining belly dance. If you wish even you can also join the belly dancer on the dancing floor. Later as all the other people leave you will be given a place of your own to relax and take part in your personal activities like Sheesha or indoor games. You have a choice to relax or sleep under sky or in your tent. Sleeping bags are provided.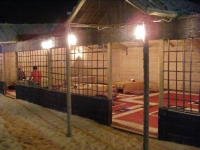 In the morning breakfast will be served and you will be brought back to your hotel or residence around 9:30 AM
Cost US$ 116.00 or Dhs 423.00 Per person Including dinner overnight breakfast and pick up. Book now
Pickup : 03:15 PM from any hotel or residence in Dubai
Cost Includes : Pickup, Dune bashing, Camel rides, Henna painting, Dinner, Soft drinks
Cost Does not Include : Alcohol Drinks, Dune buggy rides. Click here to reserve Now!
Call us at [an error occurred while processing this directive] for special deals and booking your safari Now
---
Advertisement
Advertise on this site click for advertising rates

Daily Desert Safaris
Enjoy the spirit of the Arabian desert Dune bashing in the sand and entertained by Belly dance over Dinner US.00 Per person
More details and booking